When we meet for the first time, we will discuss the concerns that bring you in. I will ask you to share some of your personal history and what you would like to achieve. Essentially, we will have a conversation - at times this may seem harder to do, and I am here to facilitate that process. You will get a sense fairly quickly about my style and what it would be like to work with me. At the end of our consultation, which may span a few sessions, I will offer you some of my reflections on how our work together might help you. If you decide to continue, we will map out our scope of work and a treatment plan.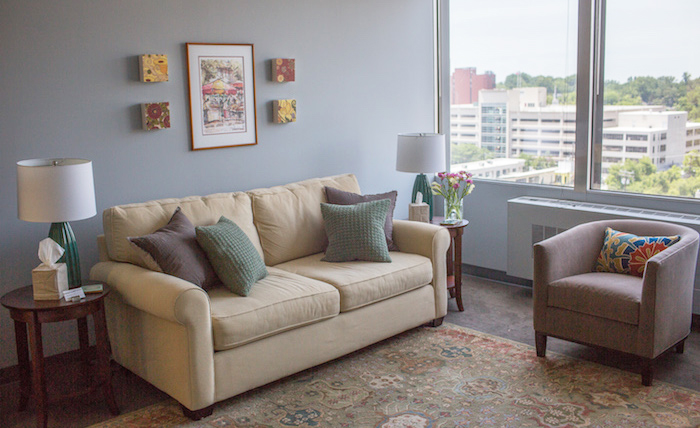 My approach
My stance as a therapist is both practical and interactive. I listen with a non-judgmental ear, encouraging curiosity about what you are thinking and feeling, so that we can understand together what is getting in the way of your happiness and fulfillment.
My approach to psychotherapy is primarily psychodynamic, while I also utilize a family systems lens. This means that as we talk, I observe patterns in thinking, feeling and relating that may perpetuate some of the challenges you face. Some of these patterns took root in early relationships and others emerge in the present day. Feeling better through therapy comes from the development of greater insight and from increased empowerment to make new choices. Should you choose to collaborate with me, our work will focus on building these two skillsets. My approach to each person and couple is unique. Together, we will tailor a therapy fit for you.

Treatment Services
I offer psychotherapy to both couples and individuals. Sessions last 50 minutes. For therapy to be effective, it requires a minimum of once-a-week treatment. For more rapid change, however, additional sessions may be indicated.


Couple Psychotherapy
My specialty area in practice is the treatment of couples. I work with couples of all ages, relationship stages, gender, and sexual orientations. People seek couple treatment for myriad reasons. Whether you are going through a difficult time or you feel unfulfilled in your relationship, I can help you navigate the challenges you face as a couple. Together, we can improve your partnership by developing a greater sense of connection, empowerment, communication and intimacy. If you have a particular concern about how I may be able to help you in your relationship, please call me and we can discuss it together. Generally, when I see couples, I require both members of the couple to be present at each session.
Family Psychotherapy
Families present in myriad and diverse constellations. The makeup of each family is unique, but all families possess some common relational elements including roles, rules, boundaries, and communication styles. Family development across the lifespan can be engaging and rewarding but also painful, complex and messy. Sometimes dynamics in the current family system and/or those passed down intergenerationally can get in the way of each member and the family unit from meeting its developmental tasks. Working from both a psychoanalytic framework and a family systems perspective, I can consult with your family to create a safe space for reflection and dialogue as a pathway for desired change.

I have a particular interest in working with families with adult children though I also see families with young children and adolescents. Generally, family therapy is most effective when all members of the family system are present. We can discuss the use of technology to bring all members into the consulting room together.
Individual Psychotherapy
Much of my work is also providing individual psychotherapy to adults across the lifespan. Most people enter individual therapy when a particular stressor or series of stressors overrides their usual resources for coping. Whether your presenting issue is acute or chronic, we will assess the origins of these difficulties and how to respond to them in a way that increases your fulfillment in work, relationships and play. I have expertise with mood disorders (e.g. depression/bipolar disorder), anxiety, grief and loss, substance abuse, career and life transitions, trauma, pregnancy, infertility, gender identity, sexuality and chronic pain or other health issues.